Cable Reel Series SP - 8000 Manufacturer in India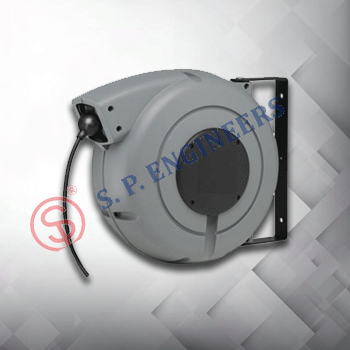 Reel Features :
Shock resistant plastic external case
Cable roller guide
Ratchet stop device every 50 cm.
All cable reels are supplied with predisposition for cable-stop device off. It can be easily inserted
Double earth contact
Collector insulating power 2.5 Kv
Slipping with brass rings and brushes
Protection degree IP42
Working temperature -5oC/+50oC
Delivered without cable at feeding side
Available both with PVC cable and rubber cable.
MODEL NO
CORE
SQ.MM
CABLE LENTH
KW
CABLE DIA
THERMAL
PROTECTOR
V MAX
CABLE TYPE
KG
SP-8116
1
16
20+2
8
NO
H05 V-F
10
SP-8215
2
1.5
25+2
230V
8
NO
500
H05 VV-F
10
SP-8315
3
1.5
25+2
230V
7
NO
500
H05 VV-F
10
SP-8315 RNF
3
1.5
20+2
230V
9.5
NO
750
H07 RN-F
10
SP-8325
3
2.5
20+2
230V
10
NO
500
H05 VV-F
10
SP-8325 /25
3
2.5
23+2
230V
8.5
NO
500
IGUS CF900
10
SP-8325 RNF
3
2.5
17+2
230V
11.5
NO
750
H07 RN-F
10
SP-8415
4
1.5
25+2
400V
8.5
NO
500
H05 VV-F
10
SP-8415 RNF
4
1.5
16+2
400V
10.5
NO
750
H07 RN-F
10
SP-8425
4
2.5
18+2
400V
11
NO
500
H05 VV-F
10
SP-8425 RNF
4
2.5
13+2
400V
12.5
NO
750
H07 RN-F
10
SP-8515
5
1.5
20+2
400V
9.5
NO
500
H05 VV-F
10
SP-8515 RNF
5
1.5
15+2
400V
12
NO
750
H07 RN-F
10
SP-8525
5
2.5
15+2
400V
12.5
NO
500
H05 VV-F
10
SP-8525 RNF
5
2.5
10+2
400V
13.5
NO
750
H07 RN-F
10