Cable Reel Series SP - 1000 Manufacturer in India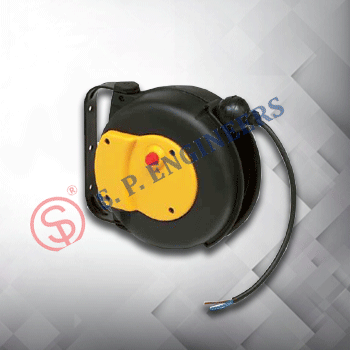 SP have a wide range of Spring-operated cable reel for wall mounting, equipped with inspection.
Shock resistant plastic external case, Ratchet stop device every 50 cm easily removed if constant traction of cables is required. Protection degree IP42. Slipping with brass rings and brushes. Working temperature: 5oC/+50oC. Double earth contact.
Reel Features :
Structural elements of cable reel in shock-resistant plastic material.  
Roller cable guide, facilitating homing of cable. 
Ratchet stop
Wall Mountable steel bracket
Rewinding cable spring at high resistance
Wiping contacts with collector ring and brushes
Working Temperature : -5o C / + 50o C
MODEL NO.
CORE
SQ. MM
CABLE LENGTH
KW
CABLE DIA
THERMAL
PROTECTOR
V MAX
CABLE TYPE
KG
SP-1006
1
6
6+1
5.5
NO
H05 V-F
3
SP-1001
2
1
7+1
203V
6.5
YES
500
H05 VV-F
3
SP-1002
2
1.5
5+1
203V
8
YES
500
H05 VV-F
3
SP-1003
3
1
6+1
203V
6.5
YES
500
H05 VV-F
3
SP-1004
3
1.5
5+1
203V
7.5
YES
500
H05 VV-F
3
Dimensions :