Cable Reel Series SP - 7000 PRC Manufacturer in India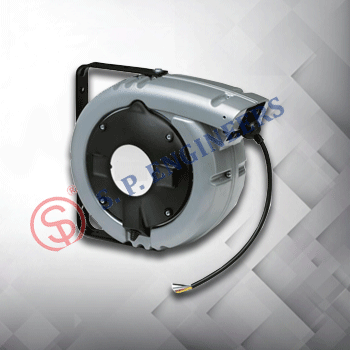 Reel Features :
Die cast aluminium case
Cable roller guide 
Ratchet stop device every 50 cm.
All cable reels are supplied with predisposition for cable-stop device off. It can be easily inserted.
Double earth contact
Collector insulating power 2.5 Kv.
Brass rings collector and special brushes with minimum impedance drop.
Slipring with brass rings and brushes
Protection degree IP42C
Working temperature -5 ̊ C/ + 50 ̊ C
Delivered without cable at feeding side
Available both with PVC cable and rubber cable.
MODEL NO
CORE
SQ.MM
CABLE LENTH
KW
CABLE DIA
THERMAL
PROTECTOR
V MAX
CABLE TYPE
KG
SP-7198/PRC
1 X
2.5
28 + 2
5.5
NO
H05 V-F
13
SP-7195/PRC
1 X
6
24 + 2
5.5
NO
H05 V-F
13
SP-7193/PRC
1 X
16
15 + 2
8
NO
H05 V-F
13
SP-7175/PRC
2 X
1
18 + 2
230V
6
NO
500
H05 VV-F
13
SP-7192/PRC
2 X
1
24 + 2
230V
6
NO
500
H05 VV-F
13
SP-7191/PRC
2 X
1.5
24 + 2
230V
8
NO
500
H05 VV-F
13
SP-7189/PRC
2 X
2.5
21 + 2
230V
9
NO
500
H05 VV-F
13
SP-7187/PRC
3 G
1
24 + 2
230V
6.5
NO
500
H05 VV-F
13
SP-7186/PRC
3 G
1.5
24 + 2
230V
7
NO
500
H05 VV-F
13
SP-7186/PRC RNF
3 G
1.5
20 + 2
230V
9.5
NO
750
H07 RN-F
13
SP-7184/PRC
3 G
2.5
15 + 2
230V
10
NO
500
H05 VV-F
13
SP-7185/PRC
3 G
2.5
15 + 2
230V
10
NO
500
H05 VV-F
13
SP-7183/PRC
3 G
2.5
20 + 2
400V
8.5
NO
500
IGUS CF900
13
SP-7188/PRC
3 G
2.5
20 + 2
400V
8.5
NO
500
IGUS CF900
13
SP-7184/PRC RNF
3 G
2.5
12 + 2
400V
11.5
NO
750
H07 RN-F
13
SP-7185/PRC RNF
3 G
2.5
12 + 2
400V
11.5
NO
750
H07 RN-F
13
SP-7182/PRC
4 G
1
24 + 2
400V
7
NO
500
H05 VV-F
13
SP-7181/PRC
4 G
1.5
21 + 2
400V
8.5
NO
500
H05 VV-F
13
SP-7181/PRC RNF
4 G
1.5
16 + 2
400V
10.5
NO
750
H07 RN-F
13
SP-7179/PRC
4 G
2.5
15 + 2
400V
11
NO
500
H05 VV-F
13
SP-7521/PRC
4 G
2.5
15 + 2
400V
11
NO
500
H05 VV-F
13
SP-7521/PRC RNF
4 G
2.5
10 + 2
400V
12.5
NO
750
H07 RN-F
13
SP-7458/PRC
4 G
4
8 + 2
400V
14
NO
500
H05 VV-F
13
SP-7063/PRC
5 G
1
16 + 2
400V
7.5
NO
500
H05 VV-F
13
SP-7067/PRC
5 G
1.5
15 + 2
400V
9.5
NO
500
H05 VV-F
13
SP-7022/PRC
5 G
2.5
10 + 2
400V
12.5
NO
500
H05 VV-F
13
SP-7068/PRC
5 G
2.5
10 + 2
400V
12.5
NO
500
H05 VV-F
13
SP-7068/PRC RNF
5 G
2.5
8 + 2
400V
13.5
NO
750
H05 VV-F
13
SP-7065/PRC
7 X
1
16 + 2
3A
8.5
NO
500
H07 RN-F
13
SP-7069/PRC
7 X
1.5
9 + 2
4.5A
10.5
NO
500
H05 VV-F
13
SP-7066/PRC
8 X
1
11 + 2
3A
10
NO
500
H05 VV-F
13
SP-7070/PRC
8 X
1.5
8 + 2
4.5A
11.5
NO
500
H05 VV-F
13
SP-7061/PRC
8 X
2.5
6 + 2
7.5A
14
NO
500
H05 VV-F
13
SP-7095/PRC
10 X
1
8 + 2
3A
13
NO
500
H05 VV-F
13
SP-7619/PRC
10 X
1.5
6 + 2
4.5A
15.5
NO
500
H05 VV-F
13
SP-7591/PRC **
12 X
1
10 + 2
3A
13
NO
500
H05 VV-F
13
SP-7593/PRC **
12 X
1.5
6 + 2
4.5A
13.5
NO
500
H05 VV-F
13
SP-7096/PRC **
16 X
1
6 + 2
3A
14
NO
500
H05 VV-F
13
Dimensions :