Cable Reel Series SP - 1500 Manufacturer in India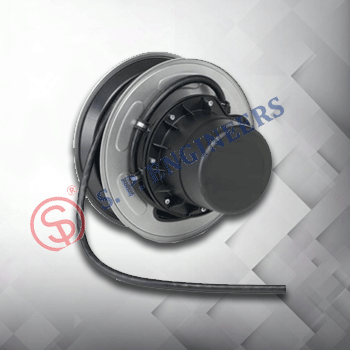 Those reels are usually supplied without bracket, without roller cable guide and without ratchet. Those articles can be bought separately, as per optional SP SERIE 1400.
Reel Features :
Polymer-painted steel case.
Side Fastening aluminium bracket.
Collectors with power: 20-50-100 A.
Steel springs suitable to grant a long life.
Protection degree IP65.
Delivered with cables H05VV-F and H07RN-F or without cable.
Suitable to recoil cables from 1 to 12 conductors
Working temperature -5 ̊̊C/+50 ̊̊C.
Max. Recoiling speed: 30 m / minute.
Collector insulating power 2.5 Kv.
| | | | | | | | | | |
| --- | --- | --- | --- | --- | --- | --- | --- | --- | --- |
| MODEL NO. WITH CABLE | MODEL NO. WITHOUT CABLE | CORE | SQ.MM | Slipring capacity (A) | CABLE LENTH | KW | CABLE DIA | CABLE TYPE | OVERAL DIMENSION A |
| SP-1520 | SP-1570 | 1 | 16 | 50 | 20+2 | 50A | 8 | H05 V-F | 330 |
| SP-1521 | SP-1571 | 1 | 25 | 100 | 18+2 | 100A | 10 | H05 V-F | 330 |
| SP-1528 | SP-1576 | 3 | 2.5 | 20 | 20+2 | 230V | 10 | H05 VV-F | 330 |
| SP-1528 RNF | SP-1576 | 3 | 2.5 | 20 | 18+2 | 230V | 11.5 | H07 RN-F | 330 |
| SP-1529 | SP-1576 | 3 | 2.5 | 20 | 23+2 | 230V | 8.5 | IGUS CF900 | 330 |
| SP-1530 | SP-1581 | 3 | 4 | 50 | 15+2 | 230V | 12.5 | H05 VV-F | 330 |
| SP-1532 RNF | SP-1578 | 4 | 1.5 | 20 | 20+2 | 400V 3F+T | 10.5 | H07 RN-F | 330 |
| SP-1534 | SP-1578 | 4 | 2.5 | 20 | 18+2 | 400V 3F+T | 11 | H05 VV-F | 330 |
| SP-1534 RNF | SP-1579 | 4 | 2.5 | 20 | 15+2 | 400V 3F+T | 12.5 | H07 RN-F | 330 |
| SP-1535 | SP-1580 | 4 | 2.5 | 50 | 18+2 | 400V 3F+T | 11 | H05 VV-F | 330 |
| SP-1535 RNF | SP-1581 | 4 | 2.5 | 50 | 15+2 | 400V 3F+T | 12.5 | H07 RN-F | 330 |
| SP-1536 | SP-1581 | 4 | 4 | 50 | 12+2 | 400V 3F+T | 14 | H05 VV-F | 330 |
| SP-1536 RNF | SP-1581 | 4 | 4 | 50 | 10+2 | 400V 3F+T | 15 | H07 RN-F | 330 |
| SP-1538 RNF | SP-1581 | 4 | 6 | 50 | 8+2 | 400V 3F+T | 17 | H07 RN-F | 330 |
| SP-1540 | SP-1583 | 5 | 1.5 | 20 | 18+2 | 400V 3F+T+N | 9.5 | H05 VV-F | 330 |
| SP-1540 RNF | SP-1584 | 5 | 1.5 | 20 | 15+2 | 400V 3F+T+N | 12 | H07 RN-F | 330 |
| SP-1542 | SP-1584 | 5 | 2.5 | 20 | 15+2 | 400V 3F+T+N | 12.5 | H05 VV-F | 330 |
| SP-1542 RNF | SP-1584 | 5 | 2.5 | 20 | 12+2 | 400V 3F+T+N | 13.5 | H07 RN-F | 330 |
| SP-1543 | SP-1585 | 5 | 2.5 | 50 | 15+2 | 400V 3F+T+N | 12.5 | H05 VV-F | 330 |
| SP-1543 RNF | SP-1585 | 5 | 2.5 | 50 | 12+2 | 400V 3F+T+N | 13.5 | H07 RN-F | 330 |
| SP-1544 RNF | SP-1585 | 5 | 4 | 50 | 8+2 | 400V 3F+T+N | 16.5 | H07 RN-F | 330 |
| SP-1550 | SP-1587 | 8 | 1 | 20 | 18+2 | 3A | 10 | H05 VV-F | 330 |
| SP-1552 | SP-1588 | 8 | 1.5 | 20 | 15+2 | 4.5A | 11.5 | H05 VV-F | 330 |
| SP-1554 | SP-1588 | 8 | 2.5 | 20 | 12+2 | 7.5A | 14 | H05 VV-F | 330 |
| SP-1560 | SP-1590 | 12 | 1 | 20 | 15+2 | 3A | 13 | H05 VV-F | 380 |
| SP-1562 | SP-1590 | 12 | 1.5 | 20 | 12+2 | 4.5A | 13.5 | H05 VV-F | 380 |
| SP-1564 | SP-1590 | 12 | 2.5 | 20 | 8+2 | 7.5A | 16.5 | H05 VV-F | 380 |
Dimensions :